Give a phenomenal touch to your video with video editing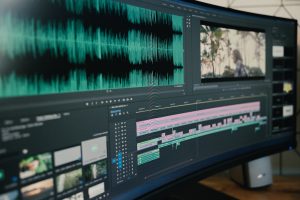 Video shoots are the ecstatic element of any occasion that captures your realm emotions, elegance, and glamor. Every time you attend an occasion you always seek prospects to get yourself captured on camera either through photos or videos. But, the pictures or the videos do not come out as they are expected to be. Sometimes the lighting is not perfect while other times someone else pops into the frame, or sometimes it's the background that doesn't match up the ambiance of the picture or video. To attain the optimal results it's better to seek assistance from a professional, that can add more value to your photos and videos with their editing magic.
Video editing is a real lifesaver if you are planning to run your video on a huge platform with numerous viewers. With expertise dealing with editing, SoudnMagix Studio will help to get the overall transitioned video that you have expected. Have a look at what our video editing services in Pune can offer you!
Transitions: The most common video editing practice that is used in almost all videos. Cutting the unnecessary part of the video and continuing with the video transition add more value to your video. This makes the video visibility better and entertains the viewer as well. Video editing makes you transform your video into a better viewable format with the help of transition effect.
Title and Text Overlays: If it's all about corporate business, we understand the importance of titles and text overlays in your video. If you are unfamiliar with these practices and are confused about where to go? SoundMagix Studio the most reliable option you can opt for. We will help you add the text and titles to the exact point where you want them to pop up. You can always rely on us for all the vital editing practices including the addition of titles, captions and texts.
Mixing Audio: Generally, formal videos do not demand much audio mixing into the video. But most of the informal videos demand maximum audio mixing practices. Most of the YouTube videos need to be edited to a background sound, suiting the situation going on in the video. SoundMagix Studio can help you out for such videos and can edit them with optimal perfection.
Audio translation: If you are planning to release the video in more than one language, shooting the same video in translated audio can be a very tiring job. Rather you can opt for the audio translation services by SoundMagix Studio. We have been helping numerous video makers and producers to translate the audio of their video into different languages susceptibly. Our translation team does this task brilliantly and gives you the best video editing experience.
We will help you with all the video editing services that you seek for your video to get the most perfect video shot!